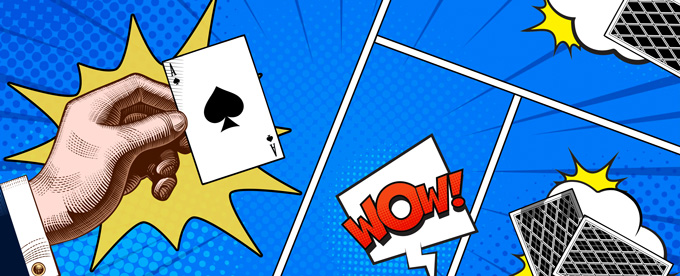 Play The Best Blackjack Online Games
Walk into any casino in the US and you'll always find full blackjack tables. Online blackjack is just as popular as the land-based counterpart and provides convenience to players who want to stay home and play. The simplicity of this table game is why so many players love it. Plus, it comes with some of the best odds for the player. The house edge is just 0.5% when playing with a basic blackjack strategy.
In most cases, however, players don't know the correct blackjack strategy and so often give the house a 2% edge over them. Even with a 2% edge, the player still has a pretty good chance of winning.
Find the best online blackjack casinos in the state below to get started playing!
What are the Best Blackjack Online Casinos in Philadelphia?
Every online casino in PA has at least one game of blackjack to offer, so how do you know which is best? We've found the best online blackjack casinos in the state, both offering competitive bonuses and a variety of blackjack options.
SugarHouse and BetRivers Online Casino
SugarHouse and BetRivers are owned and operated by the same company, Rush Street Interactive. The game libraries are the same as well as the welcome bonus! You can sign up for either today and claim a deposit match worth $250. The bonus is extremely special because of the 1x wagering requirement that comes with it. Both online casinos have a variety of blackjack games available to play, including Blackjack Xchange.
What is Blackjack Online?
Online blackjack is a casino table game and uses the same rules as at the brick and mortar. Players can play online blackjack games for real money at Pennsylvania online casinos, provided they are located within PA borders.
Difference between Live Dealer Blackjack and RNG (virtual) Blackjack
If you're playing blackjack online, it's either with a live dealer or the computer. The biggest difference between the two is the type of software used. Virtual blackjack games use an RNG to keep the game fair. The cards are constantly shuffled and randomized, making it impossible to try and count cards.
Live blackjack games work with a live dealer, who does everything for you in real-time. It's extremely similar to going to the land-based venue, except that you get to play from your preferred device. There is no RNG used and the cards are shuffled after each hand. Should you have any problems during the game, you can communicate with the dealer through the chat function.
How Blackjack Online Works?
Playing blackjack online is as simple as playing it in a land-based casino. It is recommended that anyone playing blackjack for the first time starts with an online version, as online casino software provides guides for beginners.
In an online casino, you're just playing with the dealer, so it's a 1v1 game. You don't need to take into account the cards being dealt to other players.
Basic Rules
The game begins by players deciding how much money they want to bet on the hand. Usually amounts offered start from $1, $5, $25, and $100, but this can vary depending on the casino. Once an amount has been wagered, players click "Deal" to receive the cards. The player receives two cards and the dealer receives two cards. Both player cards are face-up but only one of the dealer's cards is face-up.
Based on the total of the two cards you have, you can either choose to hit (take another card) or stand and see if your total will beat the dealer's total. If you hit and you get over 21, you bust and automatically lose the hand.
Face cards are worth 10 and the ace is worth one or eleven.
Assuming you haven't bust your hand, the dealer will turn over their face-down card and go through the same process.
The winner of the hand is the one closest to 21. Take note, the goal is not to hit 21 but to simply beat the dealer's hand. It's an important quirk to remember as you play.
The Number of Decks and the House Edge
| | |
| --- | --- |
| Number of decks | House advantage |
| Single deck | 0.17% |
| Double-deck | 0.46% |
| Four decks | 0.60% |
| Six decks | 0.64% |
| Eight decks | 0.66% |
Types of Bets and Odds
There are two other bets you can make when playing online blackjack. You can split or you can double down.
Double Down – Most online casinos only allow you to make a double down bet if you hit 9, 10, or 11 on your opening two cards. You double your bet and take just one more card. Whatever your total is after you receive the additional card is the total you stand on.
Split – To split you need to have a pair when you receive your initial two cards. You double your bet and essentially play with two hands. Some online casinos even allow players to make further splits if they receive the same cards again.
These bets are an essential part of a strategy and scoring those big wins.
Blackjack Betting Strategies
While blackjack seems like a fairly easy game to learn, having the right strategy going into a game could be the deciding factor on how much money a player walks away with - if any.
Whenever you talk to someone about playing blackjack, they'll refer to something known as 'basic strategy'. The basic blackjack strategy tells you what you should do when you receive certain hand combinations. It also takes into account the card shown by the dealer.
Basic strategy should always be used when playing blackjack online because it's derived from mathematical probabilities. It directs you towards the optimal play every time.
Managing the Dealer's Face Card
One of the keys of the basic blackjack strategy is looking into the dealer's face card. You can see one card from the dealer. The dealer doesn't know what their face-down card is until they flip it over.
In basic blackjack strategy, you always assume the face-down card is a ten.
The player is always in the best position when the dealer shows a two, three, four, five, or six. These are known as 'bust cards'. If we assume the dealer always has a ten with their face-down card, these five cards always give the dealer the highest chance of going bust.
Remember, the dealer always has to hit until they make at least 17. In some online blackjack games, the dealer also has to hit on 'soft 17', which is a hand made up from an ace and a six. They don't get to stand or hit based on what they see from the player.
So, when should you hit according to the basic blackjack strategy?
For new players, the basic rule of thumb is that you look at the dealer's face-up card and add ten. If your total is higher than the dealer's you stand, in the majority of cases.
Let's look at a few examples:
The dealer is showing a three. You have hard 15, a 15 made from no aces. In this situation, the dealer has a bust card, so you wouldn't continue to hit as the chances are the dealer will have a ten and then subsequently bust. Plus, with a 15 your risk of busting is too high to attempt to make a better hand.
On the other hand, let's say the dealer is showing a seven and you have hard 16. If we assume the dealer has a ten, they will have a total of 17. It's mathematically sound to hit on hard 16, in this scenario.
Finally, let's take a look at what happens when the dealer has a bust card, but your hand has a low total. In this situation, the dealer has a four showing. You've made a total of nine. You may think that because the dealer has a bust card you should stick. But because you have a nine and have the option to double down, you would take the double down and take a hit. There's no benefit to standing when you could win far more through the double down.
As you can see, this is where the blackjack strategy gets complicated.
When Should You Hit and When Should You Stand in Online Blackjack?
The heart of how to play blackjack is figuring out when to hit and when to stand. In land-based casinos, some players suggest watching what the dealer does and taking their advice. These players tend to lose because the dealer may have good intentions, but they're not necessarily masters of blackjack either. If a player receives two cards and neither includes an ace, this is a "hard" hand and usually means the sum of the two cards is inflexible.
For example, a King and an 8. If a player receives two cards that include an ace, this is a "soft" hand and the ace will represent 11 points.
Players should be aware of when to hold onto their hands. If, for example, a player is in possession of a hard 18 then they should "stand" because it would not be worth taking the risk of a bust as chances of winning are low in this case.
If the dealer has a soft hand, they most likely will hit to try and make the score 21, which will be advantageous for the player, who should take the opportunity to double down or split to add more money into their pot if the dealer busts. Players should keep this in mind when they see the dealer has a 4,5, or 6 in their hand.
In an online environment, you can use hand charts to help you learn when to stand and when to hit. We recommend you print out one of these charts and have it with you when playing blackjack online. Over time, you should have no problems remembering this hand chart.
How to Handle the Split and Double Down
The split and the double down are the two additional bets in blackjack you can make. You only have a chance to make these bets in specific scenarios, as described above.
Smart players can hit big wins when they use these bets intelligently. Just because you have the opportunity to double down and split doesn't mean you should.
When to Double Down
Players on online Blackjack are given the option to double their initial bet in the middle of a hand but only take one extra card - this is called doubling down. It is a very popular option amongst players, especially if the dealer has been dealt a bust card (5 or 6) and the player has an ace, 2, 3, 4, 5, or 6. The following are the best situations for a player to double down on as attaining any of these cards should result in a high hand.
Hard 9 Against Low Cards
If you have a hard nine, double down if the dealer is showing a bust card. If you have a soft nine, it's always best to stand because you have a total of 19, which is a winning hand the majority of the time.
Soft 16 or 18 Against Low Cards
If you have an ace and a five, six, or seven you have a soft total. Assuming the dealer has a bust card, you should double down. Mathematically, it's better not to double down if you have an ace and a lower card since the odds of getting a high total aren't as likely.
Hard 10 or 11 Against a Low Card
A hard 10 or 11 gives you an extremely powerful hand. If the dealer has a low total, you should always double down. The only time you don't double down on this hand is when the dealer is showing a seven or higher.
When to Split
Splitting gives you the opportunity to double your bet and play with two hands. In some online blackjack games, you may be able to split an unlimited number of hands. For example, if you split a pair of aces and receive another ace after the split you can split again and play with three hands.
So, what are the rules on splitting?
First of all, you should always split aces. A pair of aces gives you a total of 2 or 12. These numbers aren't winning hands and any ten or face card will give you 21.
Likewise, you should always split eights. A pair of eights will give you hard 16, which is the worst hand in the game. On the other hand, if you have a pair of tens you should never split. A pair of tens gives you a total of 20, which is a winning hand the vast majority of the time. The same goes for nines. The risk involved in increasing the value of your hand by one or two isn't worth throwing away a guaranteed hard 18.
Splitting should never be done with fives, as this is the point where you should double down instead. A hard ten is an extremely powerful hand to have.
A pair of fours may just give you another low hand or a hand between ten and 14, which is a difficult position to find yourself. With a pair of fours, it's better to simply hit.
With the rest of the different split combinations, you need to make a decision based on the dealer's face-up card. With a low card, split. With a higher card, it's better just to hit.
Card Counting in Blackjack Online
Card counting in conventional online blackjack is impossible. Cards are not dealt with by hand but using a Random Number Generator (RNG). It's just like having the entire deck reshuffled after every hand.
With live dealer blackjack online, you do have some opportunities to count cards. However, most games are played with decks of between six to eight cards.
There are some card counting systems that can be followed before the shoe reshuffles all the decks. These include Hi-Lo, KO, and Zen.
Why Play Blackjack Online?
Playing blackjack online has a lot of advantages compared to playing at a real casino. Here are just a few reasons why it's worth your time to stay in and play online blackjack.
Play from your home
Playing from home means you don't have to dress up and worry about a long drive to the casino. You save money on gas which can be used to play more games of blackjack online! It's convenient since you can play whenever you want from the comfort of your living room.
No waiting in lines
Land-based venues don't usually offer a huge selection of casino tables. Busy nights could see you waiting in line to get in at a blackjack table for hours. Playing online blackjack is a completely different story. You can choose between a number of blackjack tables at each online casino in PA and play instantly. There's no waiting and you have a much wider variety of blackjack at your fingertips.
You can receive Blackjack Online bonuses
One huge perk to playing blackjack online is the casino bonuses! You can claim different bonuses just for signing up. After signing up, you can start receiving more rewards for your playtime. Online blackjack is offered as part of a variety of loyalty packages in PA, and reward you each time you wager. Read more about each bonus you could claim today in our online casino bonus guide.
Online Blackjack Variations
It's common to see more than one blackjack table offered online. As more games start to launch, we can expect to see the following blackjack games available in PA:
Spanish 21: Popular variation of blackjack that uses 6 to 8 decks instead of all 8 decks. The 10's cards are not used in this variation.
Blackjack Switch: Players will have two hands dealt to them instead of one. You have the option to swap cards during the game.
Live Blackjack: Play with a live dealer from your mobile device or desktop. These types of games are played in real-time throughout set hours of the day.
Is Blackjack Online legal in Philadelphia?
Yes, online blackjack has been legal in Philly since 2017. Table games were part of the package when Pennsylvania legalized online casinos. You can play blackjack online at every PA casino currently.
Are Blackjack Online games rigged?
Each online casino in the state is monitored by the Pennsylvania Gaming Control Board. This means testing each game and feature for bugs and ensuring safety and fairness to all who sign up. Random number generators are another important feature at each online casino. This software keeps the outcome of every game unpredictable.
Can you Play Blackjack Online for Free?
You can play online blackjack for free at most online casinos in PA. Playing online blackjack for free has its advantages in giving players the chance to practice different strategies, learn the rules, and perfect the way they play without losing anything.
Online blackjack comes in many forms so it's always a good idea for new players to check the rules of the respective game as well as try out some free demos before starting to wager real money.
---
---